VCI Capsules
In addition to having excellent corrosion prevention (anti-oxidation) effects, this product can neutralize acid level and keep the PH value at 4.5~10.5 range. It has excellent inhibiting capability on corrosions caused by sulfide, chlorine, ammonia, and salt and has no negative impact on insulation resistance, electric resistance, thermal conductivity coefficient, and magnetic permeability.
Applicable objects: machinery equipment, precision instruments, circuit switchboard, IC semiconductor, PCB, optical instruments, petrochemical plants, power plants, water plant facility, metro subway systems, sewerage systems, furnace, sewage processing plant, traffic control switch box, military & industrial products, boat machinery equipment, surveillance systems.
Zerust® ICT® Activ™-CT

FAST-ACTING CORROSION PROTECTION TECHNOLOGY
Use the ActivePak packets to reduce corrosion when manufacturing processes are not in full control, or there are concerns about machine wash fluid quality.
ActivPak inhibitors passivate the metal surface and form an invisible shield that provides powerful corrosion protection for least of six months.
APPLICATION EXAMPLES
ZERUST ACTIV-CT ARE COMPACT, EASY-TOUSE, AND TARGETED CORROSION PROTECTION FOR HARD-TO-REACH AREAS OF PACKAGED OR EQUIPMENT IN CORROSIVE ENVIRONMENTS.
HOW TO USE ZERUST® ACTIV™-CT
1. Wear gloves to prevent corrosion causing fingerprints.
2. Make sure metals are clean and dry.
3. Disperse Activ-CT sachets throughout the space evenly. Do not place in direct contact with copper or brass and test before use.
4. Tightly seal the enclosure to restrict airflow.
5. Metals in the enclosure will be protected for up to six months.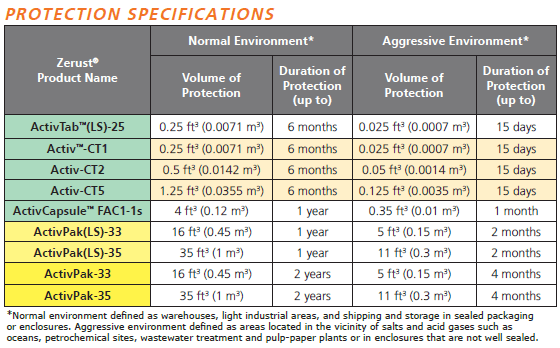 F E A T U R E S
Fast acting
Easy-to-use
Powerful corrosion protection
Protects in restricted spaces
Does not leave residue on electrical contact surfaces
B E N E F I T S
Reduce corrosion incidents
Improve equipment reliability
Reduce need for inspection & rework
Save money & resources
Comes with Zerust® global on-site support
AVAILABILITY
Activ-CT1 300 units/bag
Activ-CT2 200 units/bag
Activ-CT5 150 units/bag
PROTECTION TYPE
Ferrous and aluminum protection. Protects yellow metals when used as instructed. Do not place in direct contact with copper or brass and test before use.
PROTECTION SPECIFICATIONS
Please refer to the protection specifications chart on right.
PROTECTION LIFE
Will protect metals for 6 months when positioned properly within an enclosure. Limit airflow to the enclosure to maximize protection life.
SHELF LIFE
Shelf life of 2 years when stored out of direct sunlight, at 85° F/30°C or less and in original packaging.
IMPORTANT INFORMATION
Do not install where tablets will come in contact with water. Avoid repeated use at temperatures above 180° F/82°C.

Application Ranges for VCI Capsules

Product Code
Validity Period (basis)
Protection Capacity
Protection Radius
Dimension

(mm)

VC 1-1
1 year ( 2 years )
110 L ( 40 L )
30cm
55x25x17
VC 2-1
1 year ( 2 years)
850 L ( 340 L )
60cm
54x32x23
VC 2-2
2 years
850 L
60cm
76x32x23
VC 6-1
1 year
22000 L
180cm
205x102x51
CT-50
3 months ( Half year )
12 L ( 6 L )
12cm
40x50
CT-100
Half year ( 1 year )
25 L ( 12 L )
12cm
47x50

Due to its excellent characteristics, it has been certified through US MIL Spec. MIL-I-22110A.

| | | |
| --- | --- | --- |
| | | |
| | | Specially used in electrical and mechanical switchboard for rust prevention. |